About Dolan Australia
Our Mission: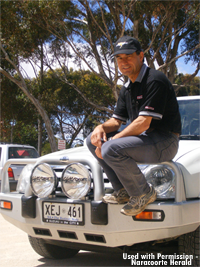 To provide unique products of excellence in appearance and function to rural and urban clients in every part of Australia, through a quality-conscious sales and distribution system.

Motorists are faced with many dangers on the roads, particularly in the country, and there's no point in leaving anything to chance.

Dolan Australia offers the full range of frontal protection systems (FPS), including nudge bars, roo bars and bull bars. In addition to this, vehicle accessories such as the "ShuRoo" system are also available. Andrew Dolan

From humble beginnings in 1981 as a general agricultural fabrication and repairs company, Dolan Australia has grown considerably, and is now the supplier of a range of brands, Australia-wide. The owner, Andrew Dolan has vast experience in the bullbar industry, including a period as the SA representative to the Australian Automotive Aftermarket Association Bullbar manufacturing group.

1983 was the start of a 15 year rapid-growth period manufacturing high-strength, custom made bull and roo bars. This rapid increase in business size was due to the company manufacturing products under the "Dolan Engineering" and "Bush-Bar" labels to suit the requirements of all. This meant consistently responding to feedback from customer experiences using the products in regional and remote everyday situations. With the help of our loyal clientele, we were able to continuously improve the strength, effectiveness and appearance of these frontal protection systems.

1995 heralded the beginning of many changes to the FPS market. The advent of SRS airbags and later, mandatory occupant safety features did not line up with the product features that we had been designing into bars. Andrew could see that the company had to undergo changes in policy and culture to stay relevant to the modern motor vehicle industry.

1998 saw the close of the factory and the adoption of a new business model. As a result, Dolan Australia now sources products from manufacturers in nearly every state, distributing them Australia-wide.

A product purchased from Dolan Australia will be the best available anywhere.